Research seminar at Notodden Campus: Food for thoughts and thoughts for food.
Emals' yearly research seminar during the research days "Forskningsdagene" was conducted together with the research group for aesthetic learning processes ForEst (Forskningsgruppe for estetiske læreprosesser) this year, September 29. We had approx. 50 participants.
The event was conducted as a hybrid on-site and on-line event, inviting researchers, university colleagues and students to listen in on the research-based presentations. This years' theme for the "research days" was Energy, so to manage the long day we offered free lunch to the participants, while the topics of the seminar evolved more around the current topics in art education and embodied knowledge.
The program for the day included the following titles;
Time:
Presenter
Titel:
10:00 – 10:15
Camilla Groth and Tone Cronblad Krosshus
Introduksjon av forskergruppene
10:15 – 10:30
Brynjar Olafsson
Kreativitet i skolen
10:30 – 10:45
Marte S. Gulliksen
Hva er læring, sånn helt på mikronivå? – Kunstverk som konkretisering og utgangspunkt for undring
10:45 – 11:00
PAUSE
11:00 – 11:15
Camilla Groth
Hvilken rolle spiller empati i skolens kunst, design og håndverksaktiviteter?
11:15 – 11:30
Alison Clark
Taking it slow: blurring the boundaries between art making and research
11:30 – 11:45
Ingrid Holmboe Høibo
Teacher's pedagogical beliefs in Norwegian School Makerspaces
11:45 – 12:15
LUNCH
12:15 – 12:30
Larysa Dahl Kolesnyk
Opportunities for teaching digital democracy in school makerspaces
12:30 – 12.45
Tone Cronblad Krosshus
Tvisyn og estetiske læreprosesser
12:45 – 1300
Erling Framgard
Bildepedagogikk i estetiske læringsprosesser
13:00 – 13:15
Coffee
13:15 – 13:30
Marianne Tovsrud Knutsen
Kor som samskaping
13:30 – 13:45
Kirstine Riis
Bærekraftig tekstilproduksjon med fokus på lokale ressourcer
13:45 – 14:00
Morten H. Lerpold
Kunst og Energi!
14:00 – 14:15
All
Discussion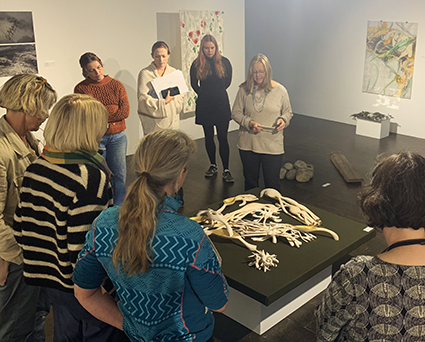 Marte S. Gulliksen presented her talk in the Art gallery where she could exemplify her points with the help of her displayed carved artefacts.