Slow learning and slow with materials
Written by Kari Carlsen
Professor Alison Clark and Professor Kari Carlsen, members of EMAL-Early Childhood Education (ECEC), at the USN Department of Visual and Performing Arts Education, are engaged in a research project in collaboration with members of two Icelandic universities; the University of Iceland and University of Akureyri, the first meeting was conducted during 4.-10.th May, 2023.
The stay in Iceland was very well prepared by our Icelandic colleagues, Anna Magnea Hreinsdóttir and Kristín Dýrfjörð. Alison and Kari participated with presentations on the yearly Rannung conference for preschool staff in Reykjavík, with 150 participants Friday the 5th of May. This was arranged as a breakfast conference from 8.30 -12.00, where preschool participants met for talk and social mingling the first ¾ hour, and continued with three presentations and a final comment.
Monday the 8th of May we ran a workshop together with staff from the five preschools participating in the coming study. Tuesday the 9th of May we lead a workshop with colleagues in the two universities in Iceland; University of Akureyri and the University of Iceland, where also a group of Danish colleagues from the preschool teacher education at Campus Carlsberg in Copenhagen participated, totally about 15 persons. Tuesday we also had lunch and an interesting conversation with the dean of the faculty of education, and participated in a podcast about slow pedagogies, made by two preschool educators for the Icelandic preschool staff about the theme. Wednesday we were invited to one of the preschools participating in the project, Aðalþing in Reykjavík, with a very interesting and well-prepared stay. The preschools are Reggio Emilia inspired and has a special focus on food and children's wellbeing during their meals, and with a well-qualified chef in the kitchen.
We had very productive days together, and Saturday our colleagues brought us around to interesting and impressing places in South Island. The nature is spectacular with colours, structures and forms, hot springs and geological phenomenons. We thank Kristín and Anna Magnea for driving us around and for good company. Tuesday afternoon we also had the pleasure to visit Kristín Dýrfjörð's exhibition of pictoral embroidery. Busy and interesting days, ending the days in the public swimming pool with hot water.
About our project
The project aims to deepen knowledge and understanding of children's experiences of time in preschools and how pedagogical documentation can be used to shed light. The purpose of the research is to increase the knowledge of staff, parents and children about children's learning and the time children need to explore the world and test their ideas in preschools.
The research questions (as far) are:
How does the relationship with time impact on life in five preschools?
What opportunities are there for children to immerse themselves in play?
How can pedagogical documentation help to ignite and develop discussions and reflection over time between children and teachers concerning children's ideas, play and learning?
Five preschools will participate in a three-year collaborative action research with researchers from the University of Akureyri, the University of Iceland and the University of South-Eastern Norway. Each preschool will select topics or areas to focus on and develop in their school. In regular meetings, they will share with other participants in the project their development, ideas, victories, and challenges. They will look together at each other's documentations. Research data will be gathered during those meetings and from the participants in the research.
Alison and Kari will have a yearly visit to Iceland as co-researchers to follow the work and be partners for discussion during the project the next two years.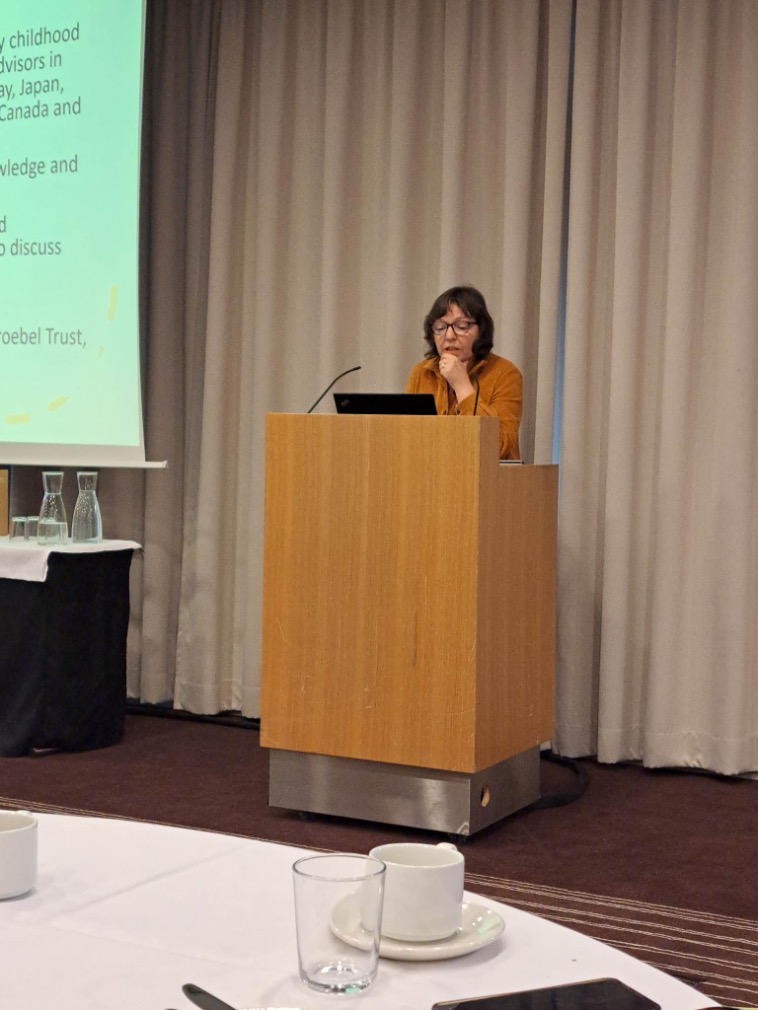 The conference Friday 5.6. Alison Clark lecturing.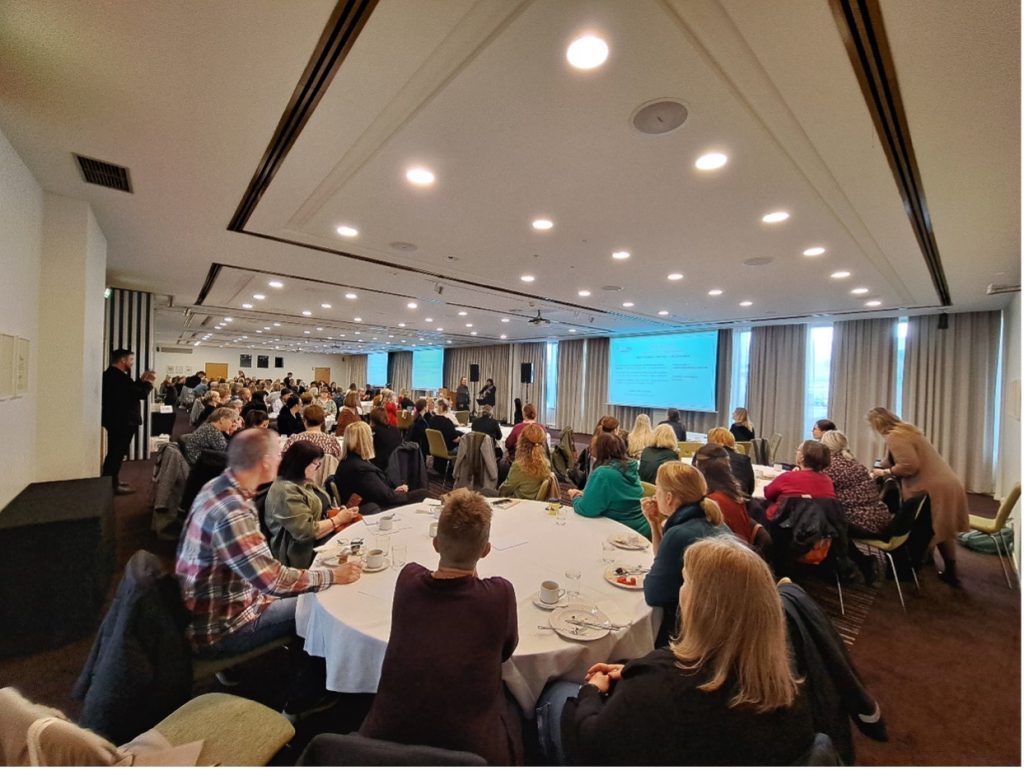 The Audience at the "Breakfast seminar" Friday the 5.5.2023, Reykjavik.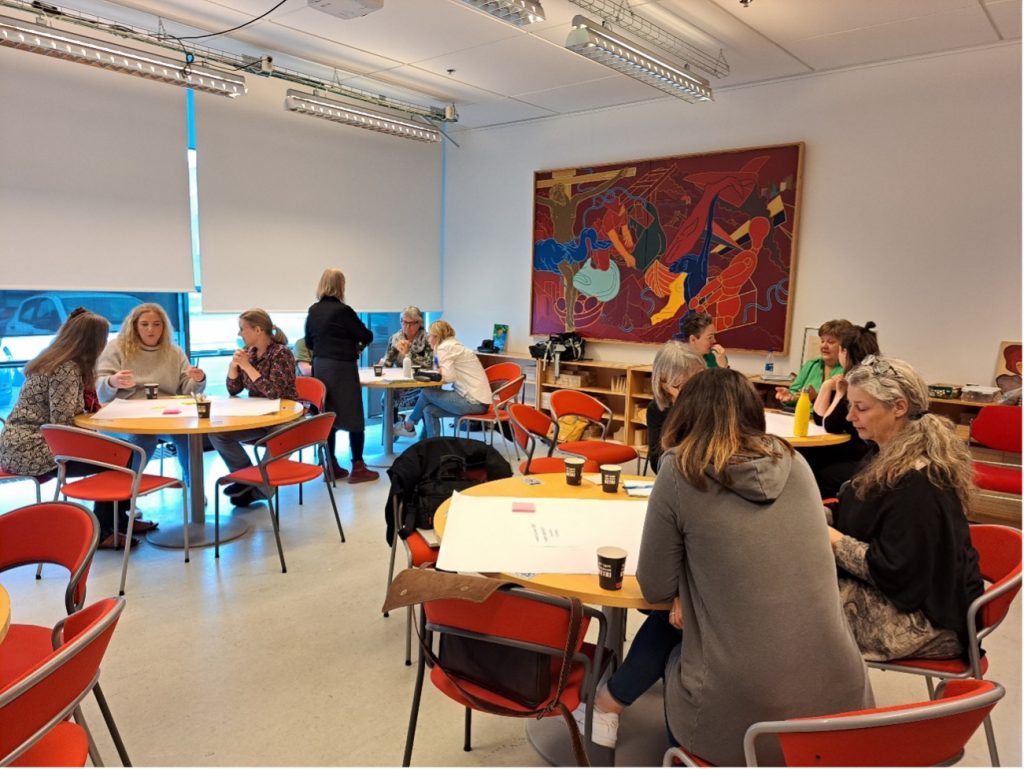 Workshop with colleagues from Reykjavík, Akureyri and Copenhagen Tuesday 9.5.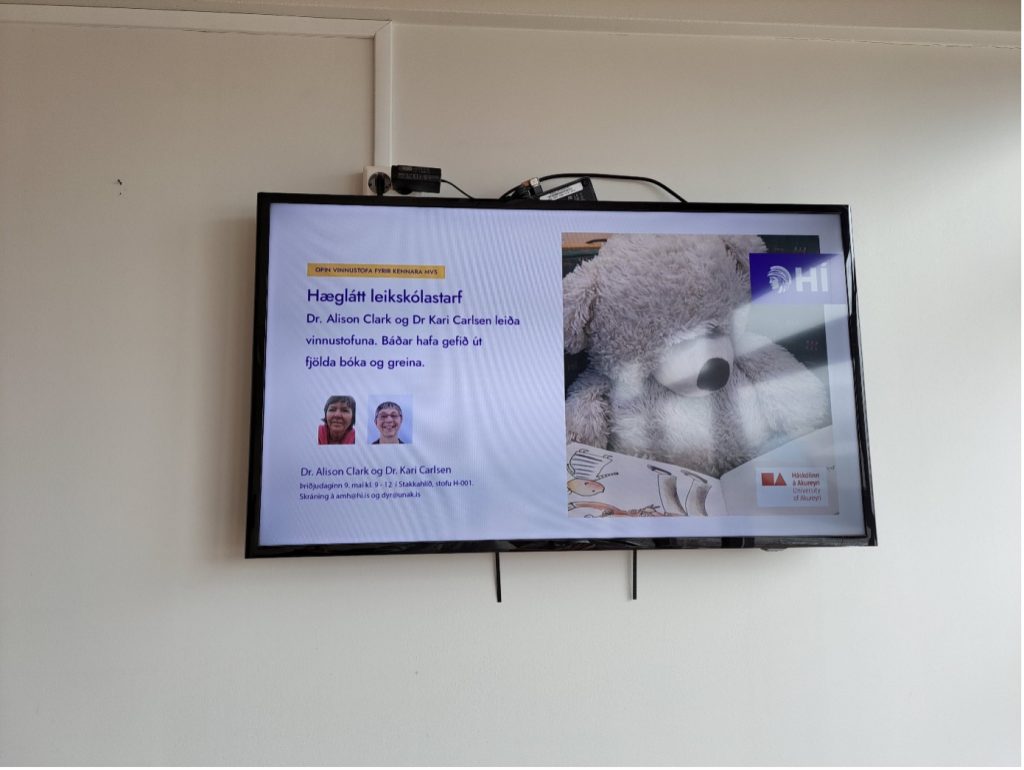 Alison and Kari on the information screen.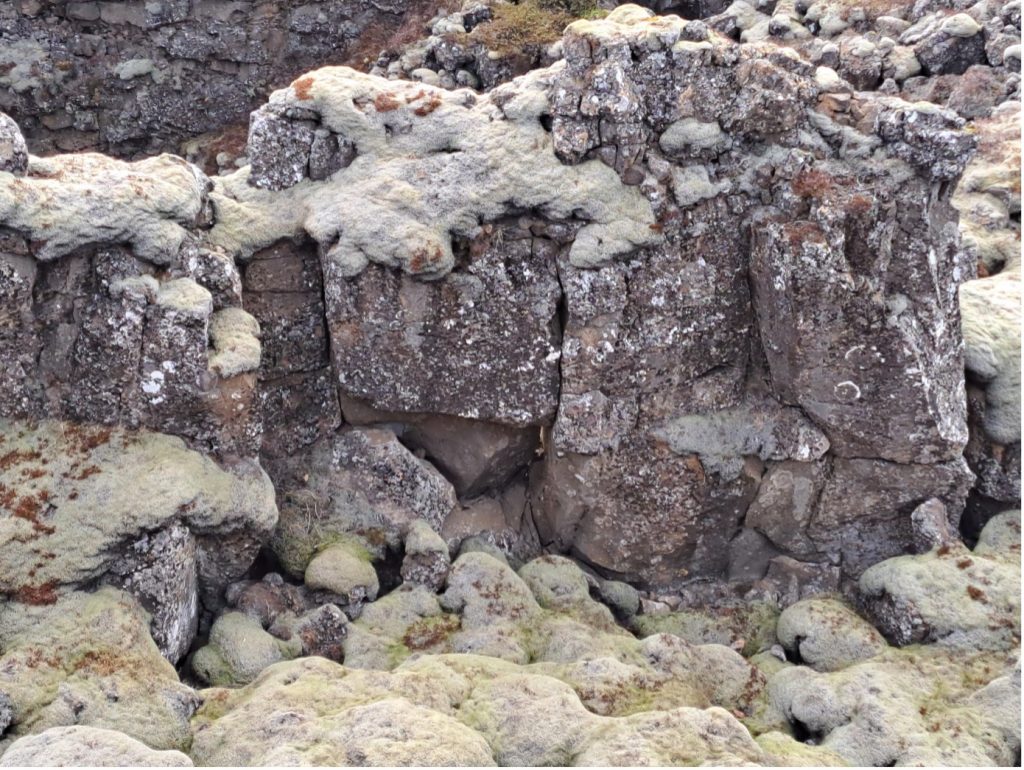 This is what we are looking at!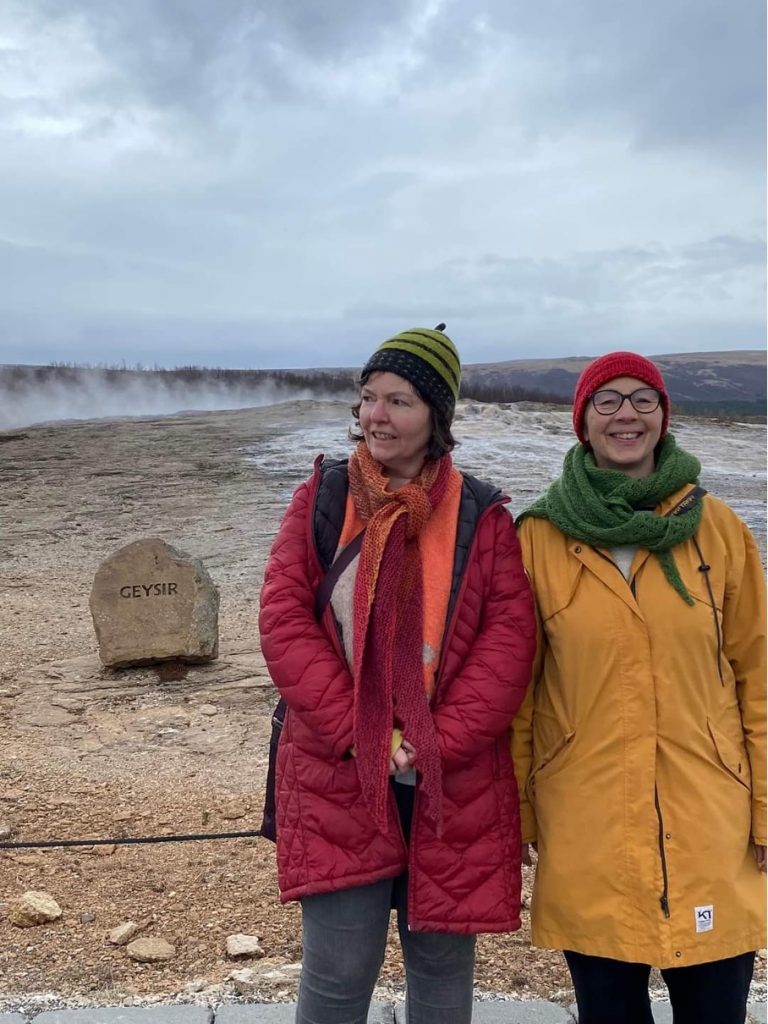 Alison and Kari by Geysir. Photo Kristín Dýrfjörð.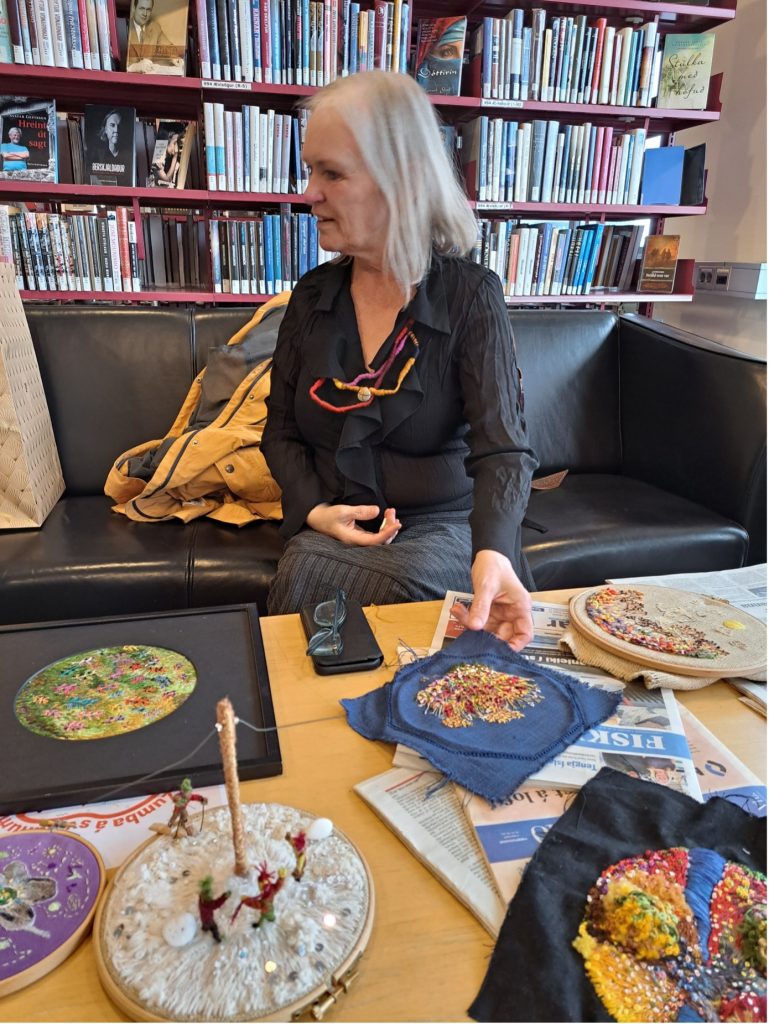 Kristín Dýrfjörð showing her embroidery at the exhibition in the library.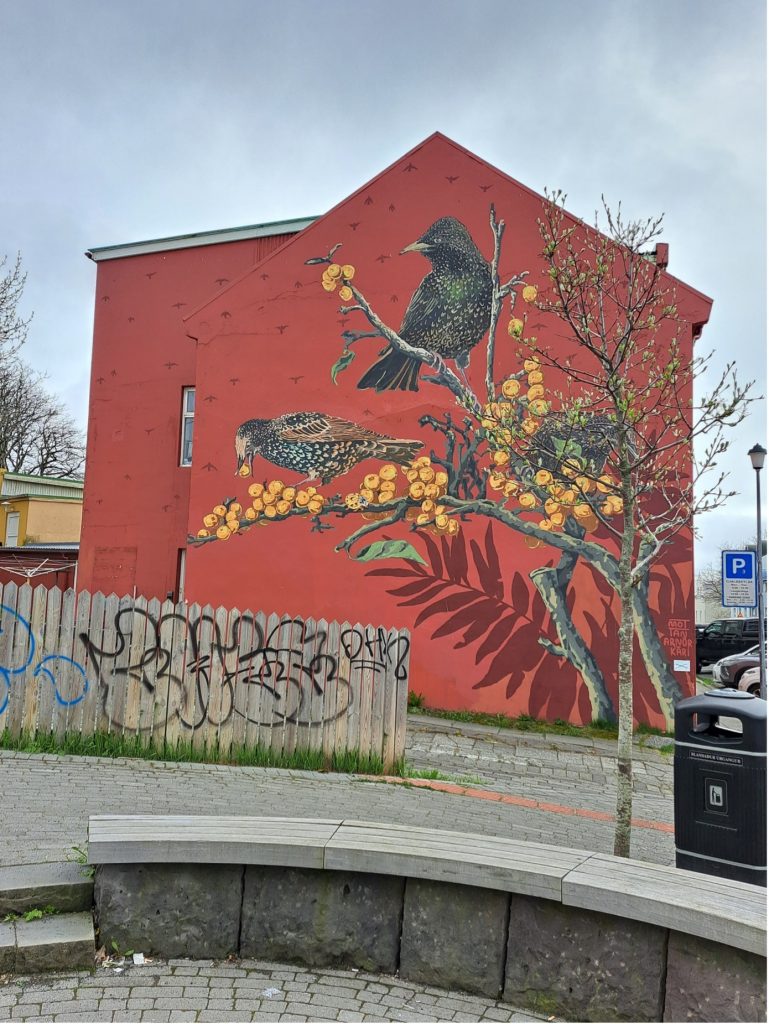 Reykjavík is colourful, no restrictions for the inhabitant's way of painting their houses. A lot of nice and not so nice pictures on the walls. Here are one of the very beautiful.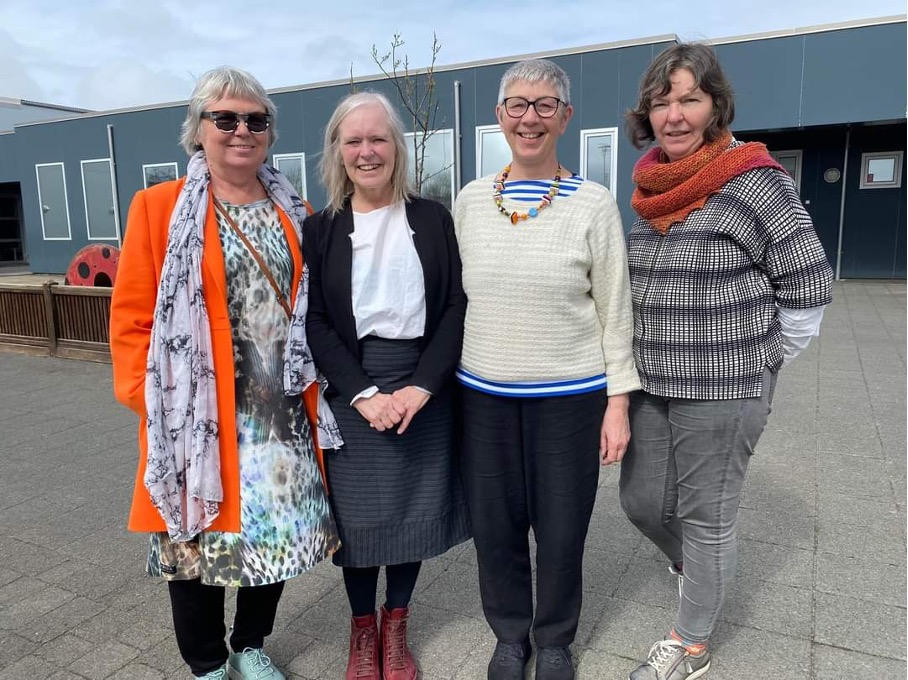 Here four researchers and preschool teacher educaters outside Aðalþing leikskólum (preschool). From the left to right; Guðrún Alda Harðardóttir, the former leader of the Aðalþing and pioneer of the preschool teacher education at the University of Akureyri, Kristín Dýrfjörð, former teacher and leader of the school and preschool teacher educator, Kari Carlsen USN and Alison Clark, USN.